Homemade almond face packs, face masks for the glowing face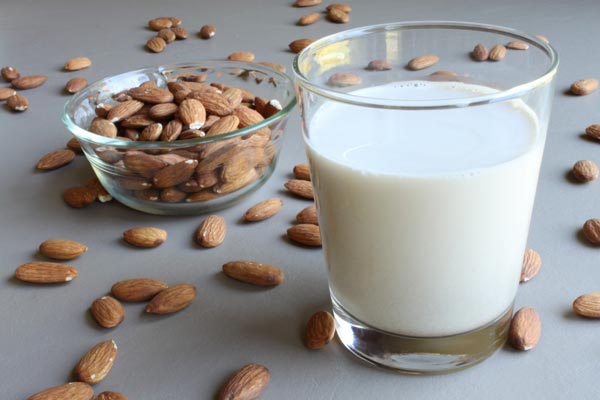 Almond has several benefits for beauty and health is good too. The skin looks flawless and glowing by eating almonds. A mask made using almonds helps in whitening skin and removing scars on the face made by pimples and acne. Nurtures and rejuvenates the skin that helps reduce wrinkles and fine lines.
[ Hindi masks and face masks for bright ]
Multani Mitti using for oily skin
Almonds as a nut are really great if you have it for their health benefits or beauty tips. The combination of this nut with other ingredients of origin, be easy to get a wonderful remedy. No need for expensive products on the market; instead getting the best skin with exclusive brightness will be possible with a little magic of almonds. Let's explore some of the packages of the face.
Almond contains vitamin E .This Vitamin E helps in skin care. Almonds have the properties for the treatment of skin problems like acne, pimples, lines of fear, etc. Almonds contain vitamin E and acts as an agent against aging. For natural-looking face without scars, pimples, acne use face pack of almonds. Here are the best face packs 5 of almond. These masks are easily made with simple ingredients kitchen and try all these.
Curd and almond face pack
Ingredients
4 tablespoons curd
almond powder 1 tablespoon
Process
The best packages face homemade milk for skin care
Mix the almond powder in curd and make it stick. Apply this paste on the face. This mask is best to treat acne. The lactic acid in the curd makes the fight against fungi. This curd clears acne bacteria and makes your face free of acne. Apply this paste on the fcaefor10-15 minutes. Then wash with mild cold water.
Oats and almond face pack
Ingredients
almond powder 1 tablespoon
ground oats 1 tablespoon
Milk 2 tablespoons
Process
Almonds are very good for skin care. Almonds contain Vitamin E helps for skin care. clean and smooth facial skin almond. Take 1 tablespoon oatmeal powder, 1 tablespoon almond powder, 2 tablespoons milk. Mix it all up and make fine paste. Apply this paste on the .Dry face for 20 minutes and wash with cold water. You can use lemon juice, honey instead of milk. Both are good tonic for skin with antioxidants. This package face works well for dry skin.
Almond milk and face pack
Ingredients
Raw milk 5 tablespoons
almond powder 2 tablespoons
Process
Mix the almond powder with raw milk makes it as a thin smooth face. Apply this paste on the face. Leave for 15 minutes to dry. When dry wash with cold water. This mask is suitable for the type of sensitive and combination skin.
Multani Mitti and almonds
Ingredients
Winter face Multani Mitti packages
almond powder 2 tablespoons
Rose water 1 tablespoon
Multani Mitti
Process
Oily skin is the place to dust. This powder on the face leads to acne, pimples. Multani Mitti mix with almond powder and then add the rosewater to this mixed powder. That is what the pasta. Apply this to your face. Wash after 15 minutes. Mitti face oil free. This mask helps to get rid of oily face.
chickpea flour and almond mask
Ingredients
gram flour 2 tablespoons
almond powder 1 tablespoon
Turmeric 1 pinch
Process
Mix the chickpea flour, almond powder, turmeric. Add the water and that is what the paste to apply on the face. Apply this paste on the face. Keep the face pack for 15 minutes and wash with cold water. chickpea flour clearing blocked pores of the skin and makes your face radiant.
Use face packs almond and get the glowing face of beauty.
Almond homemade masks and masks
face pack with yogurt almond is used on oily skin to remove scars and acne pimples made. Make this package by soaking and grinding the almonds and mix with yogurt. Apply the pack on the face and let it dry. Rinse with cold water to get radiant skin.
face pack with almond papaya is an ideal package for oily skin. Preparing this package by mixing crushed almonds and soaked with ripe papaya pulp. Leave the pack for 15 minutes and then apply it on your face. Wait 20 minutes and then wash your face with cold water.
natural masks for dry skin
banana mask Almond is fast package for dry skin that can be used to obtain a shiny look just before going to a party or attend an important function. Make the package by mixing crushed and soaked with the pulp of ripe banana and apply it on the face almonds. Leave on for 20 minutes before washing.
face pack almond with lemon juice or rosewater is an ideal place for tanning package. Mix some lemon juice or rosewater in the almond paste prepared after soaking and grind the almonds. Apply on face and wash off after 20 minutes.
face pack with almond sandalwood is beneficial to lighten the skin tone and making it look right. This package can be prepared by soaking and grinding almonds and making a paste by adding equal amounts of sandalwood powder. Apply to face and let it dry completely. Then wash with warm water. It is a perfect package for justice.
Aloe Vera Gel and face pack helps almond in eliminating scars on the face and improving skin complexion. Simply mix aloe vera gel on the ground almond paste and apply it on the face and neck. Wash your face with warm water after some time.
face pack Almond with orange peel powder acts as an excellent exfoliating agent that also helps improve blood circulation. Mix orange peel powder and almond paste and rub gently on the face and wash with water.
Almondubtan package with Kiss and turmeric pack for Indian brides traditionally used just before the wedding day. This will make the skin glow and help fade pimple marks and dark spots. It is prepared by mixing almond paste, flour or powder and kiss grams of turmeric and adding a little milk to make a smooth paste. Apply to face and let dry completely before washing with cold water.
Almond saffron container is the actual package that was used by the queens in ancient India. It is still seen to have a clear skin free of oil. one instant rosy glow is given by removing pigmentation and dark spots on the skin. Preparing this package to soak some almonds and some saffron in a bowl of cold milk and kept in the refrigerator overnight. Peel and crush almonds in milk. Make a smooth paste by adding chickpea flour and milk if necessary. This package stain on the face and leave for 20 minutes. Then wash with warm water.
almond, egg and lemon mask is a good mask to remove dry flaky skin and dead skin cells. Prepare this mask for dry skin taking dry powder almonds and egg mixture and lemon juice white therein. Apply this paste on wet skin and leave for half an hour. Then wash and feel immediate results.
package honey almond gives a perfect treatment for acne and infection. It also helps to nourish and reducing fine lines and wrinkles. Mix the ground almonds and olive oil in a bowl and add some yogurt to blend into a smooth paste. Share this paste on the face and massage in circular motions. Place damp cloth over it after 15 minutes and then wash with water.
red lentils with almond
Red lentil is a wonderful cereal that is easily available at home, because it is the most popular cereal that people consume. You need to take 2 tablespoons red lentils and 4-5 almonds and soak in water overnight. Once you get up in the morning you can see that the cereal and nut has become very soft. Now take mill and pulp it. Apply this paste all over your face, leaving the eyes and lips. Wait 10 minutes and then wash with water.
Almond oil with sugar

fenugreek seeds with almond
Now you can enjoy almonds and extract oil naturally if you really need the almond oil unadulterated. Once you have extracted almond oil carried in a container. Now take your palm and add a tablespoon of oil such in it. Add half a tablespoon of sugar in it. Rub both palms against each other and apply on the face. Now, use your fingers to rub against your skin. This will be a wonderful washer. the layer of dead skin will be removed to a shine on your skin. It can be washed away once passed 10-20 minutes.
You should easily get fenugreek seeds right in your kitchen, as it is one of the ingredients of wonderful origin available in the kitchen. You can get beautiful glowing skin with the combination of fenugreek seeds and almonds. This can be a wonderful washer with granules in the face. You can apply your hands to rub against the face. Wash it after 20 minutes and see the difference.
You May Also Like :