Coconut Cookies : How to Make Delicious Homemade Christmas Cookies
Wondering how to make Coconut Cookies? with Christmas around the corner, this question often is forced to hit the supermarket and grab a readymade package. On the other hand, during Christmas , the air was filled with the warm smell of melting chocolate, cookies and cakes in the oven. Not only at Christmas but all year Coconut Cookies is one of those dessert that remains a favorite of all time.
Each family has a secret recipe coconut cookie Grandma . There are ample Christmas cookie recipes , but coconut cookies as being always a choice. coconut cookies if concisely seen a cross between a coconut macaroon and shortbread butter cookies and candy chewy . Whether young or old, these cookies are a favorite of everyone and all ages. home made coconut biscuits have their own distinct flavor and a personal touch.
How to make coconut cookies is not an exact science! Shredded coconut toast and bake her, and make Healthy Cookies with them . Let's take a look at How to make easy coconut cookies.
ingredients to make homemade cookies Coco
120 grams of butter,
100 grams of powdered sugar,
130g plain flour (Maida)
1/2 teaspoons baking powder
1/2 teaspoon baking soda
80g desiccated coconut
3 teaspoon milk powder
a pinch of cardamom powder (optional)
step by step procedure for coconut cookies
Preheat oven to 180 degrees.
Take a bowl and colander and mix the dry flour Ingredients-, baking soda, baking powder and milk powder.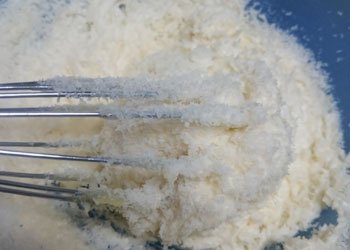 In another bowl take butter at room temperature and whisk until it becomes light and fluffy and gives soft peaks.
Add the dry ingredients and mix powdered sugar to the whipped butter with desiccated coconut and cardamom powder (optional).
Mix well and form the mass of this mixture. Keep the dough in a warm place, covered with a cloth and give it a little time (20 minutes) to go up and absorb all the flavors.
With the help of a cookie cutter, cut the cookies as desired.
Place cookies 2-3 inches apart on a baking sheet lined with parchment paper and bake for 20-25 minutes or until golden brown.
Give the tray a dwell time of 2-5 minutes after the end of the cooking time. Transfer to a wire rack to cool completely.
His own delicious cookies are ready. It's an incredibly easy cookie recipe such . You will find countless recipes coconut cookies but this coconut cookies basic recipe remains unmatched .
So this Christmas bake their own version of Homemade Coconut Cookies as an excellent gift idea to wrap them in a beautiful box I biscuit them little and your loved ones gifts.
As they say, the food is the best expression of love!
Happy Holidays!
You May Also Like :